Picasa from Google Reviews



| | |
| --- | --- |
| Editor's Overall Rating: | |
| Average User Rating: | |





| | |
| --- | --- |
| Quality of Sharing Features: | |
| Range/Quality of Prints and Gifts: | |
| Other Features: | |
| Ease of Use / Navigation: | |
| Ease of Joining / Registration: | |
| Customer Support: | |
| Value for Money: | |
| Overall Star Rating: | |
PAGE 1: Displaying Reviews 1 - 2 of 2
Picasa is now retired
26 February 2017
Reviewer: Mundoo from South Australia
35 of 81 people found this review helpful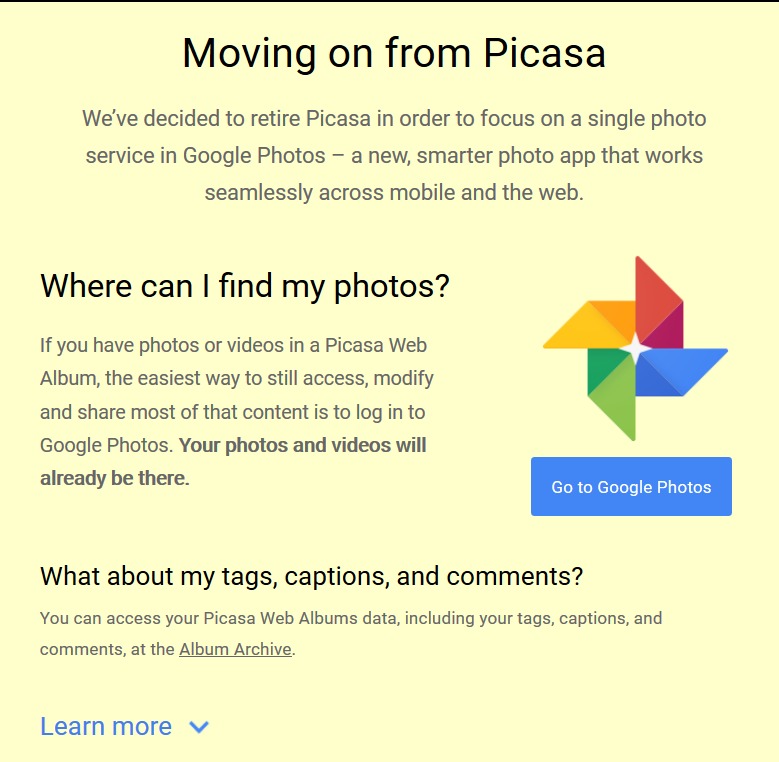 When going to Picasa you get the following message.
Moving on from Picasa
We've decided to retire Picasa in order to focus on a single photo service in Google Photos – a new, smarter photo app that works seamlessly across mobile and the web.
Picasa is retired.

In summary, I would not recommend Picasa from Google to a friend.
Was this review helpful? Yes or No

Read Comments
Read the license
11 December 2012
Reviewer: SR from Alaska
165 of 320 people found this review helpful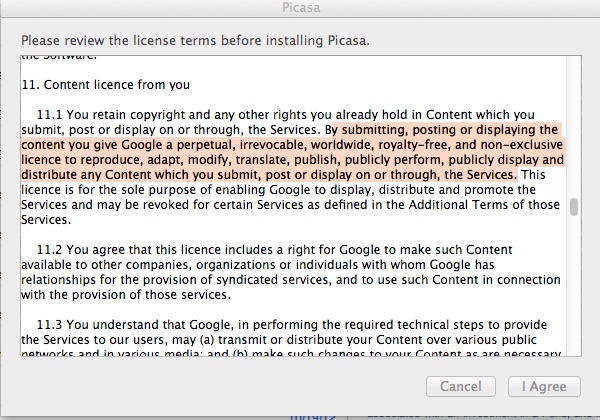 Used Picasa years ago and loved it. I have started taking pics again so naturally went to Picasa. Not sure why, but I actually read the lic agreement. I was stunned to discover Google gets "an irrevocable, world-wide, royalty-free license" to reproduce, publish and display all content uploaded for the purpose of promoting googles services (See section 11 of end user agreement). I declined and am now looking for a photo sharing site.
Probably still a great site for family sharing but anyone who has photos for sale may want to look else where.

In summary, I would recommend Picasa from Google to a friend.
Was this review helpful? Yes or No

Read Comments
» Click here to visit Picasa.Google.com
or
« Back to the rest of our Photo Sharing Websites Reviews
Advertisements