Picasa from Google Reviews



| | |
| --- | --- |
| Editor's Overall Rating: | |
| Average User Rating: | |





« Back to all the Picasa from Google User Reviews
11 December 2012
Reviewer: SR from Alaska
165 of 320 people found this review helpful
| | |
| --- | --- |
| Quality of Sharing Features: | |
| Range/Quality of Prints and Gifts: | |
| Other Features: | |
| Ease of Use / Navigation: | |
| Ease of Joining / Registration: | |
| Customer Support: | |
| Value for Money: | |
| Overall Star Rating: | |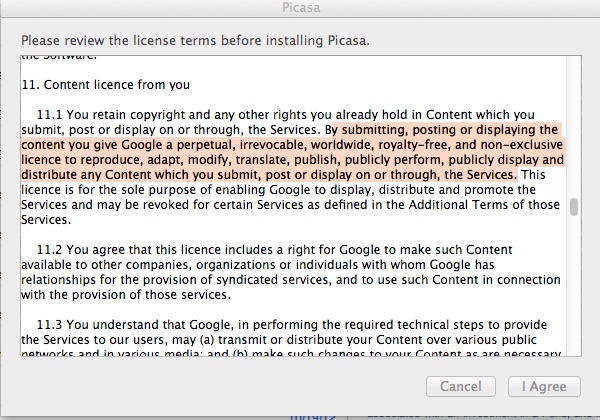 Used Picasa years ago and loved it. I have started taking pics again so naturally went to Picasa. Not sure why, but I actually read the lic agreement. I was stunned to discover Google gets "an irrevocable, world-wide, royalty-free license" to reproduce, publish and display all content uploaded for the purpose of promoting googles services (See section 11 of end user agreement). I declined and am now looking for a photo sharing site.
Probably still a great site for family sharing but anyone who has photos for sale may want to look else where.

In summary, I would recommend Picasa from Google to a friend.
Was this review helpful? Yes or No
« Back to all the Picasa from Google User Reviews
Comments on this Review
comments powered by
» Click here to visit Picasa.Google.com
or
« Back to the rest of our Photo Sharing Websites Reviews
Advertisements