Picasa from Google Reviews



| | |
| --- | --- |
| Editor's Overall Rating: | |
| Average User Rating: | |





« Back to all the Picasa from Google User Reviews
26 February 2017
Reviewer: Mundoo from South Australia
35 of 81 people found this review helpful
| | |
| --- | --- |
| Quality of Sharing Features: | |
| Range/Quality of Prints and Gifts: | |
| Other Features: | |
| Ease of Use / Navigation: | |
| Ease of Joining / Registration: | |
| Customer Support: | |
| Value for Money: | |
| Overall Star Rating: | |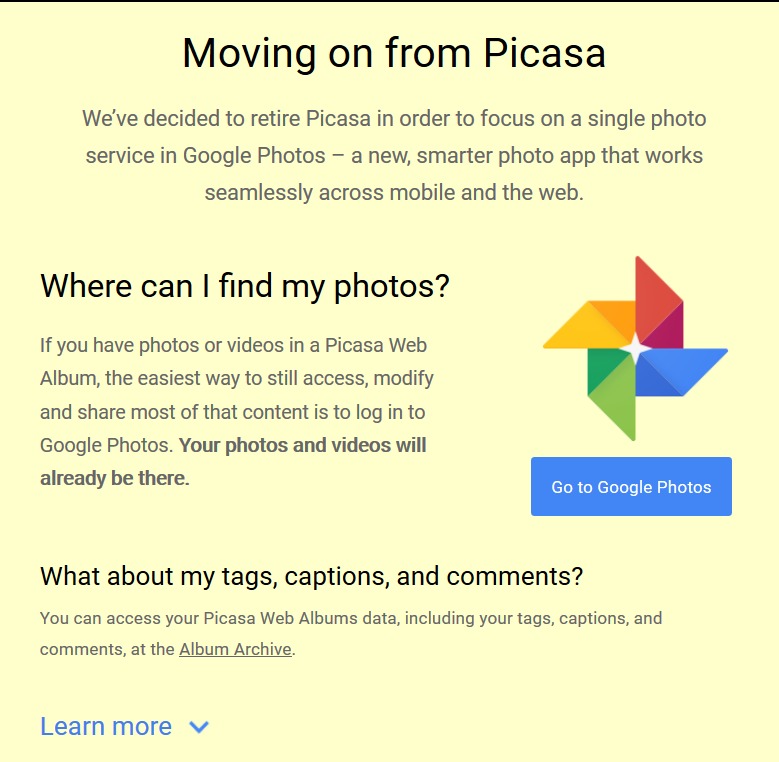 When going to Picasa you get the following message.
Moving on from Picasa
We've decided to retire Picasa in order to focus on a single photo service in Google Photos – a new, smarter photo app that works seamlessly across mobile and the web.
Picasa is retired.

In summary, I would not recommend Picasa from Google to a friend.
Was this review helpful? Yes or No
« Back to all the Picasa from Google User Reviews
Comments on this Review
comments powered by
» Click here to visit Picasa.Google.com
or
« Back to the rest of our Photo Sharing Websites Reviews
Advertisements